EliGene - SARS-CoV2 diagnostic kits
News 2021: EliGene® COVID19 kits - the most precise diagnostics
Diagnostic kits for detection of SARS-CoV2 from RNA.
EliGene® COVID19 UKV/SAV RT kit
EliGene® COVID19 UKV RT kit
EliGene® COVID19 Triple RIC RT kit
EliGene® COVID19 CONFIRM RT kit
EliGene® COVID19 BASIC A RT kit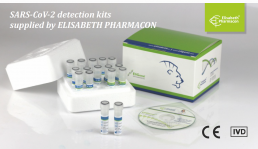 Product guarantee policy and Shipping
Product quality is our highest priority at ELISABETH PHARMACON. Clinical studies are available for all CE certified kits. As manufacturing, testing, packaging and delivery are carried out under the EN ISO 13485:2003 quality system, we guarantee batch-to-batch consistency. All EliGene products are supplied with a Certificate of Analysis, summarizing the conditions and results of quality assurance tests.
EliGene diagnostic kits are shipped frozen on dry ice. Diagnostic kits are packed in polystyrene boxes to protect them from thawing during shipment. Mixes are aliquoted to several tubes preventing the loss of sensitivity from freeze-thaw cycles.