EliGene - SARS-CoV2 diagnostic kits
News 2021: EliGene® COVID19 kits - the most precise diagnostics
Diagnostic kits for detection of SARS-CoV2 from RNA.
EliGene® COVID19 UKV/SAV RT kit
EliGene® COVID19 UKV RT kit
EliGene® COVID19 Triple RIC RT kit
EliGene® COVID19 CONFIRM RT kit
EliGene® COVID19 BASIC A RT kit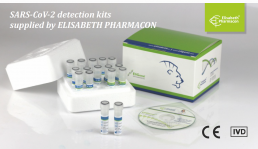 Advantages of EliGene® kits
Advantages of EliGene® isolation kits
Isolation on columns enables robust and rapid isolation of DNA
Special composition of provided reagents and columns guarantees high yields and minimizes risk of inhibition during PCR
Isolation procedures tested directly with variety of clinical samples covering blood, plasma, serum, sputum, urine, sperm and buccal, cervical, eye, rectal and urethral swabs
Kits are CE certified IVD
Advantages of EliGene® detection kits
The usage of the Internal Control that allows to monitor the extraction procedure and to check possible PCR inhibition
Kits are supplied with positive control that allows quality control of the analysis
Simultaneous amplification (multiplex) of DNA/RNA from pathogen and internal control in one PCR tube
The usage of Hot-Start technology minimizes the risk of non-specific reaction and provides ultimate sensitivity 1-10 copies of nucleic acid/reaction
The usage of Ready to use Mastermixes containing all reaction components for easier reaction setup and handling
For manufacturing of diagnostic kits, the row material from the leading providers is used to ensure the highest quality of our kits
The possibility to use Quantitative Standards to most of the kits enables to calculate precisely the NA load from 102 to 106 copies/reaction
High stability of used reagents
The usage of EliGene® LC kits enables complete detection in less than one hour
Kits are CE certified IVD
Kits are validated on LightCycler® 1.2, 2.0 and 480, ABI® 7300, 7500 and 7500 FAST
Compatibility of the kits with broad range of instruments - RotorGene®, SmartCycler®, Mx3000P® and 3005P® QPCR systems or iQ5® and CFX96® cyclers
Kits labeled with UNI have the same PCR protocol. This makes analysis much more convenient since different pathogens can bedetected in the same run
LightCycler is registered trademark of Roche Molecular Systems Inc., "ABI" is a registered trademark of Applied Biosystems. "iQ5", "MyiQ" and " CFX96 & CFX384 " are registered trademarks of Bio-Rad Laboratories. "SmartCycler" is registered trademark of Cepheid. "Rotor-Gene" is a trademark of Corbett Research. "MX 3000P" and "MX3000P" are registered trademarks of Stratagene, Inc.